It was a very nice day to go on a boat ride from the Old town in Riga. We were not planing to go on the ride on that day, but it was a very nice evening and as we realized later on, its the best way of discovering Riga. So it was like a self guided Riga tour.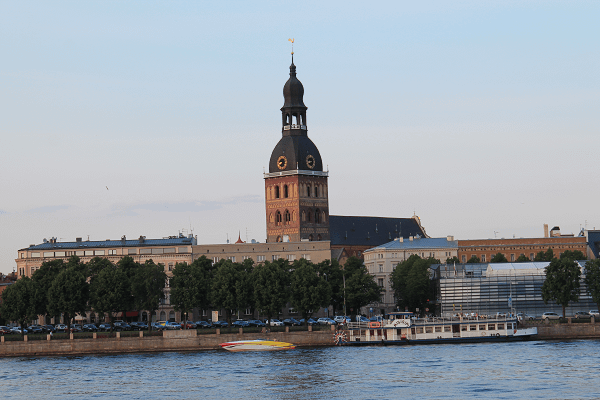 Riga has always been a very nice place to visit and to explore. It was the first time that I took a boat ride in Riga. I never thought that Riga can be so beautiful. Maybe it was the nice warm weather, but maybe it was the right people I took the boat ride in Riga with.
This boat ride in Riga, really surprised me, because it took me to places in Riga where I have never been. And I live in Riga for 15 years. Lets just say that I have never explored Riga, like the tourists do. And this was like seeing Riga from tourist eyes.
I believe that there are many other places which I have never been to and will never have the chance to see or visit.
Out in Riga: Boat ride and Riga tours.
There is another great place in Riga where you can go and relax. It's the Lucavsala park. A very nice place to relax and just have some fun. A very nice place for kids and family.
So if you are traveling to Riga, it's really worth going on the boat ride in river Daugava. You will see Riga from a different perspective.
There are a lot of places to see and to visit in Riga. Out in Riga: just like other parts of Latvia, Riga is also very green with lots of parks and playgrounds for kids and families.
We know that you will have fun time in Latvia. Because Latvia is such a marvelous place.  Have fun when visiting Latvia. Here you can find some – Things to see in Latvia.
For more information about tours in Latvia and other tours in Riga just contact us. Or if you need any help to find anything in Riga or you want to know what to do in Riga, just contact us and we will be more than happy to help.