Mini Baltic Tour: Day Trip Riga – Rundale – Hill of Crosses – Ninth Fort – Vilnius
Book your Riga Mini Baltic Tour right now.

Discover South of Baltics with our Day Trip!
Tired of spending long hours in the minivan from point A to point B? We have a good solution for you. AroundLatvia Tours offers to make your transfer more interesting with stops at some of the main sightseeing places on the way from Riga to Vilnius. You will see Bauska castle and Rundale Palace which are located in Latvia and also Hill of Crosses and Ninth Fort which are located in Lithuania. You will see objects from different time periods and history marks.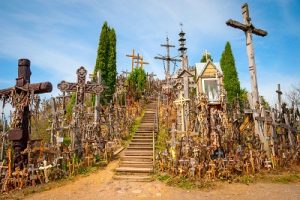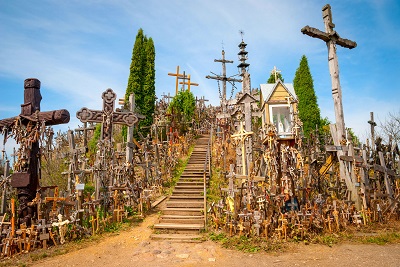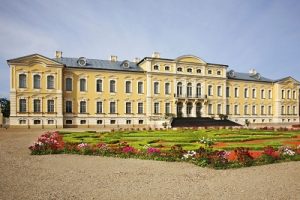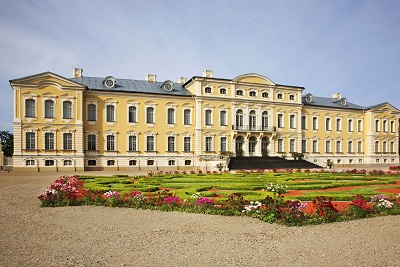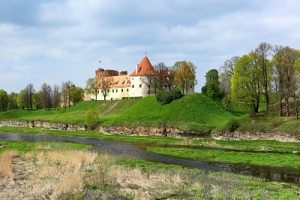 From castles to sanctuary and hard labour prison…
Bauska Castle
Your day trip will start at 8:00 with pick up at your hotel. It will be around 1 hour long drive through Riga and countryside. The first short stop is in Bauska castle which represents military architecture in time period from 15th until 17th century. It is located between two rivers Mūsa and Mēmele and consists of two parts. One part is just ruins left and the second part is as a museum which used to be the residence for the Duke of Courland.
Rundale Palace
Just few kilometers away from Bauska castle is located Rundale Palace. This magnificent Palace was built as a Summer residence in two periods from 1736 until 1740 and from 1764 until 1786. It is beautiful Palace with huge rose gardens, well worth visiting while in Latvia!
Hill of Crosses
After visiting Rundale Palace you will spend another hour on the road while driving through countryside of Lithuania. During the trip you will Cross the Latvian-Lithuanian border. No passport control is required since 2007. Next stop is planned at Hill of Crosses. This is sanctuary place for a lot of people as well as sightseeing place for many people. Nobody knows exact number of Crosses on this Hill, however estimated number was around 55,000 in 1990 and 100,000 in 2006, nowadays even more…
Ninth Fort+
After Hill of Crosses you will enjoy the 2 hour trip through Lithuanian countryside to Kaunas city. Ninth Fort is a very sad and full of history place to see. For some it will remind Auschwitz… Impressive fortress with many thousands of meters of tunnels, used as a concentration camp in the Second World War. Museum can be visited by yourself, also there are many various tours with guide available.
*After visit in the last sightseeing place you can choose either to return to your Riga hotel (4 hour drive back) or to end your trip in Vilnius hotel or airport (1 hour drive)
*Mind that no tour guide is included in this offer. If you wish to have a guided tour please contact us!
*Packed lunch and snacks are advised
*No entrance fees are included