Book your Riga Art Nouveau walking tour right now.
From €3.70 per person

Discover Riga Art Nouveau district with our Riga Art Nouveau walking tour
Yes, this the famous Riga Art Nouveau Walking Tour, you are welcome to make a reservation for you or your group. Surprising to many, the Art Nouveau architecture is actually one of the best and most sought after attractions in the whole of Riga. We will be showcasing the Art Nouveau architecture on our Art Nouveau walking tour. You will be given the opportunity to view it in all its glory and beauty. We will be conducting a two-hour walking tour that will be nothing short of a marvelous experience. Especially for people who are history and architecture enthusiasts.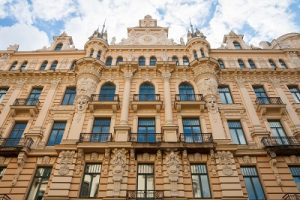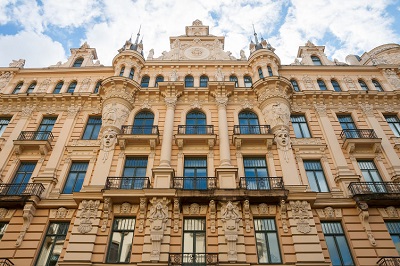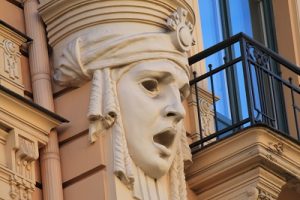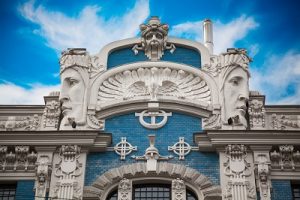 The Famous Riga Art Nouveau walking tour
Riga is a world famous city which has been made so popular due to its rich architectural heritage and composition. One of the most outstanding structures in the city is the beautiful Art Nouveau style buildings. Art Nouveau, with origins and bases in English and French, became popular during the peak of the Latvian economic prosperity at the end of the 19th century. Also known as Jugendstil in Germany, Stile Liberty or Stile Floreale in Italy, Modernismo in Spain and Sezessionsstil in Australia.
On our tour, you will also get the chance to see Mikhail Eisenstein, the architect who was responsible for the brilliant and awe-inspiring design of the Art Nouveau. Each building is special and with a very distinctive look, history and purpose. We can guarantee that seeing each building is definitely going to be worth your while.
Our tour will offer you a fully immersive and highly enlightening 2-hour walk through the most popular buildings on the more quiet side of Riga. Take advantage of this unique opportunity to see the part of Riga where art speaks louder than words – Riga Art Nouveau walking tour. Your tour guide will also be providing some facts and commentary and you will also be given a platform to ask questions. We can promise the delivery of a professional service at a very economical and cost effective price.
Professionally guided tour – Art Nouveau, Riga
Around Latvia is a professional organization and that professionalism extends to our guides just as well. All our guides are fully certified, meaning that they are fully qualified to take tours in and around Riga.
Book a tour (Art Nouveau walking tour in Riga) in a language that suits you the most. Language options include English, German, Russian, Swedish, Italian, French, and Latvian. We can arrange this wonderful tour almost in any language and you can rest assured that you'll have a wonderful time. Our language flexibility is the main reason why so many travel agencies and tour operators want to work with us.
In Riga Art Nouveau architecture (also known as Jugendstil architecture)is visible almost everywhere. With a total of 750 buildings, Riga is the Art Nouveau capital of the world.
Elizabetes street 10
At the Elizabetes and Antonija street corners, you will find two of Eisenstein's best buildings right next to each other. The building with the incredibly long face is one of Eisenstein's most iconic works of art and architecture. It is also the building that has been photographed the most in Riga. All of Eisenstein's buildings are beautiful and impressive. The building right next to this one is no exception. It's got oddly shaped windows and a smiling sun face located right under the balcony.
Blaumana Street 28
On this street, you will find something unusual made by Karl Johann Flesko 112 years ago. The building is nothing short of an incredible spectacle to behold. Being covered in dragons, wolves and different gargoyles, all with gaping mouths.
Jauniela Street 25/29
A while ago this building was briefly abandoned after Latvia gained her independence. However, it was later reopened and converted into an exquisite hotel (Neiburgs). It is a very popular building with an enormous woman's head hovering above the entrance. Built in 1903, it is massive and painted bright yellow.
Probably the best Riga Art Nouveau walking tour – AroundLatvia