Mini Baltic Tour: Day Trip Riga – Sigulda – Ligatne – Parnu – Tallinn
Discover North of Baltics with our Day Trip!
Tired of spending long hours in the minivan from point A to point B? We have a good solution for you- Mini Baltic Tour: North. AroundLatvia Tours offers to make your transfer more interesting. With stops at some of the main sightseeing places on the way from Riga to Tallinn or even other way around! The main stops in Sigulda will be Bobsleight Track, Turaida castle, Gutmana cave. Soviet Secret Bunker (as optional choice, additional cost for entrance) in Ligatne and small, but beautiful city of Parnu and Tori Hell cave near Sooma National Park in Estonia.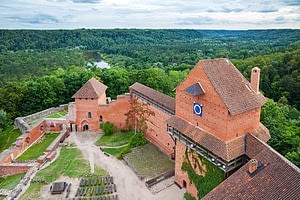 From busy Riga to small Switzerland (Sigulda) and Soviet times to National Parks, see it all…
Your Mini Baltic Tour: North will start with pick up at 8:00 from your hotel in Riga or Tallinn. Sigulda city is just 1 hour drive from Riga. Through the whole city of Riga you will see some suburbs as well as countryside. In Sigulda there will be few main stops to see some of the main objects, like Bobleight Track, Gutmana Cave and Turaida castle.
Probably the best Riga to Tallinn tour out there.