Autumn Chamber Music Festival
Music Festival organized by VSIA " Latvian Concert " Autumn Chamber  which will take place from 28th September 16th October in Riga, Ventspils and Madona, invites you to enjoy the intimate atmosphere of outstanding chamber musicians in performance. Special event of the festival – the world's best contemporary music ensemble – Ensemble Modern in Frankfurt and home to most famous concert halls – visiting Riga.
In addition, the festival will hear Artemis String Quartet , one of the world's greatest violist Maxim Rysanov who plays along with the Sinfonietta Riga, excellent Spīķeru quartet for the first time meet with the London-based expressive cellist Kristin Blaumanis, audience favorite accordionist Ksenija Sidorova, who will present their new album Fairy Tales. Autumn Chamber Music Festival – Peter Wax.
Autumn Chamber Music Festival on 28th September will reveal one of the world's finest string quartets Artemis. It was established in 1989. Since 2012th On the quartet 's first violin in excellent Latvian chamber musician and soloist Vineta Sareika. Riga in the repertoire of the classical wing represented by Schubert and Mendelssohn simple nobility crowded music, but will also be a non-academic music – for the tango king Astor Piazzolla's fascination with the music of Bach Prelude and Fugue testify cycle.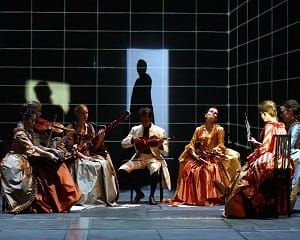 4th and fifth For the Latvian National Opera, the New Hall will hear the world's best contemporary music ensembles – Ensemble Modern . Two concert series is offered us the opportunity to get acquainted with the project, which is the world premiere performance 2012th December in Munich and as their specially for this occasion to compose essays presented eight new Eastern European composers. These young people were selected for intense competition, therefore, particularly delighted to see him among the three Latvian representatives – Andris Dzenitis, Kristaps Petersons and Jānis Petraškevičs. The project is the initiative of Eastern Europe in the Goethe Institute in cooperation with the Ensemble Modern and fund BHF -Bank – Stiftung .
9th October Spīķeru My Trio Concert play. Together with his brothers Järvi – Cello Marius and pianist Mihkel will feature clarinetist Guy Spilmens – new Australian who studied at Lübeck Sabine Meyer and Reiner Veles and is now the Estonian National Symphony Orchestra principal klarnetists.
12th For the Great Guild Riga Sinfonietta will perform with one of the world's foremost violists Maxim – Rysanov. Program – The immortal Schubert and contemporary authors variations of his brilliant music.
On 15th of October in Spīķeru concert hall we will hear the 2012 Great Music Award winner, accordionist Ksenija Sidorova, who will present his new solo album Fairy Tales. Put the album out of the United Kingdom House record Champs Hill Records.
So that's the news from the Autumn Chamber Music Festival in Riga.