TRAVEL AGENCY IN RIGA, LATVIA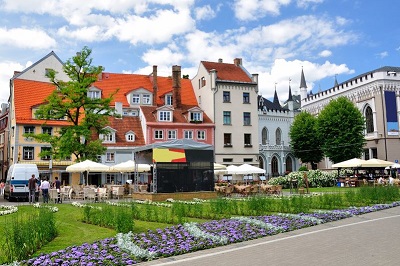 AroundLatvia is your trusted Latvia travel agency in Riga and throughout the entire Baltic region! Whatever type of adventure you're looking for in the Baltic States, AroundLatvia can provide the knowledge, expertise and advice you're looking for to make the most of your holiday!
Experience Riga, Latvia and the Surrounding Countryside
AroundLatvia has the information and travel options you're looking for to experience everything that Riga has to offer! Featuring guided city tours of Old Town and the Central Market, as well as tours highlighting Riga's world-renowned Art Nouveau architecture, you can book your favorite walking tour with just a few clicks.
And our wide selection of day trips to the surrounding countryside feature some of our most popular and exciting attractions! From the beautiful Rundale Palace and historic Sigulda to the lovely Kemeri National Park and the breathtaking Hill of Crosses, we offer something of interest to everyone looking to go beyond Riga for even more excitement and beauty.
Explore Everything the Baltic States Have to Offer
AroundLatvia Tours even offers guided trips to the other Baltic States! Book our Vilnius tour and enjoy a lovely ride through the Latvia and Lithuania countryside, stopping at historic landmarks and places of interest like Bauska Castle and Ninth Fort. Take a step back in time as you explore popular attractions that highlight the Baltic region's rich history and timeless beauty. What's more, you can choose to make the round trip back to Riga or be dropped off at the hotel of your choice in Vilnius as you continue your holiday through the unforgettable Baltic region!
We also offer day trips from Riga to the capital city of Estonia, Tallinn! With plenty of stops along the way including Sigulda, Ligatne and Parnu, this day trip through the northern Baltic region is full of beauty, history and some of the best sightseeing destinations in the region. From castles and caves to famous landmarks and even a secret Soviet bunker, this day trip has something for the entire family! Whether you choose to end your trip in Tallinn or make the round trip back to Riga, you're sure to have an incredible trip you'll remember for years to come.
The Latvia Travel Agency that Makes Booking a Breeze
From Riga, Latvia to Estonia and Lithuania, AroundLatvia is your one-stop travel agency for all your needs in the Baltic region. Whatever specific options or destinations you're looking for, we can accommodate them! From large parties to small groups, weekend tours to week-long getaways, we can arrange the perfect holiday for you! Contact us today with your questions and requests, and we'll do everything we can to show you why AroundLatvia is the leading Latvia travel agency in the entire Baltic region!